Brightly coloured sportswear could be "sartorial", or simply functional, depending on the image you wish to project, the peer groups you appease, or the level of safety you commit to.
Suggested reading: "The Handbook of Material Culture", about the colour of things.
"I like the shoes but I am not sure about the colour" is a common feedback we get from customers buying running shoes. Or running gear for that matter. After almost a century of being embarrassed into coordinating muted colours in the name of career progresssion, and 'fitting in' with our social peers at Henley, Ascot or the pub, it's normal for us to have reservation about bright colours – unless worn strictly within a certain social context.
Bright and gay?
Still, it doesn't make loud colours 'abominably homosexual', as the Russian priest Alexander Shumsky implied recently with regards to the Russian squad's footwear at the World Cup 2014.
In general, we have two types of buyers: those who ask for shoes or kits for a specific type of activity, and those who ask for a certain colour to satisfy a certain social requirement.
The former customarily would settle for quality products, no matter how much they hate the colours. They know it's about the training. The latter are more concerned with how they are perceived and judged by society, and thus, their decisions are informed by 'dress codes'. You almost never expect them to do anything vigorously outdoors. Shumsky presumably falls in this second group.
Be seen, be safe
Sportswear is utilitarian. Within a certain sporting context – with the exception of Wimbledon – it is permissible for colours to be bright and fluorescent. It's about visibility. It's about being seen when you are moving at high speed by fast-moving vehicles or pedestrians.
The issue that runners all over the world have with twelve hours of daylight, eight hours of working time, and in some locations, soaring temperatures during daytime, is that one commonly has to run at the end of the day around 6 pm when it's still bright but slightly cool, and returns 30 minutes to two hours later when it's getting dark.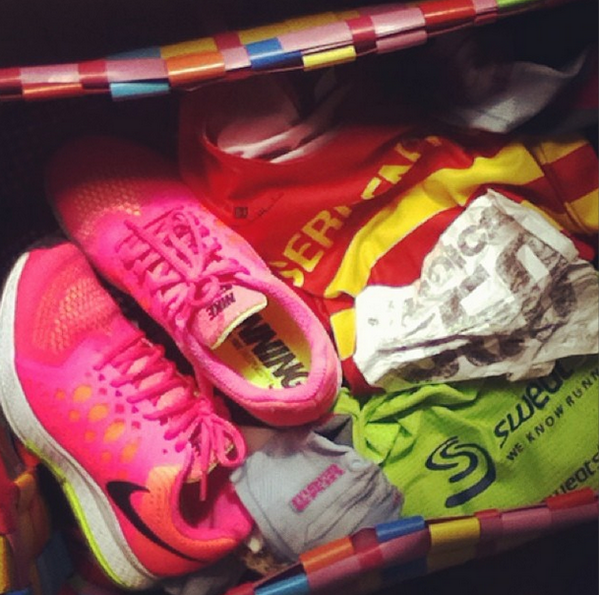 The same applies with cycling. You cycle very early in the morning to avoid the mid-morning weekend traffic. But that means you have to be very visible at high speed when it's still dark.
Customers are not mistaken, however, to think that these bright colours are a trend. To an extent, yes, but ask any seasoned runner if you should wear a slick all-black outfit when running on a wet, wintry day. It's a bad idea. Sartorially, it's not wrong. Black is sexy, but a motorist could spot a runner in a lurid yellow top much more easily.
Loud and proud
The choice of colours in the national kit is no lightweight, sartorial matter. If the media is to be believed, it appears the Scottish national identity is at stake, judging by the criticisms leveled at the Scotland Commonwealth Games kits, which were designed by Jilli Blackwood.
Of course they have to be bright. The point of reference is not British Home Stores but history. The blue sits beautifully next to the tan brown in the tartan. It's a textile pattern that you see not only in kilts, but also in "sarong pelikat" worn on the coastal towns of East Africa, the Arabian Peninsula, India and Southeast Asia.
This pattern, at least on the sarong pelikat, is the preserve of adult males. Once a boy reaches puberty or gets circumcised, he gets to wear it. He could join the club. That rite of passage doesn't or no longer applies in this developed part of the world, but that pattern and those colours are a most universal textile motif. It's not a Beckham fashion faux pas. It's menswear.
I can see the kilt working well with a hoody or a Barbour-type lightweight jacket. If the Glasgow 2014 organisers have a few tartan skirts of that lovely palette to spare, I'd be pleased to have one (contact me!).
I am size XS, or UK 8. I could show you how it works.
Salina Christmas did a postgrad degree in some 'material culture' anthropology, and sells a lot of bright, sporty kits.